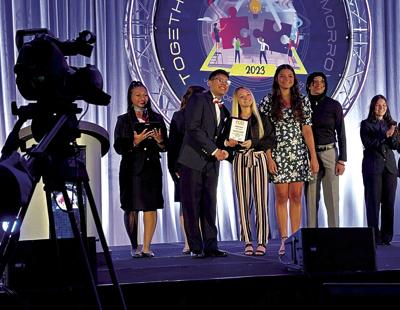 BY ELIZABETH KELSEY elizabeth.kelsey@thmedia.com
A trio of Dubuque Hempstead students recently were named national finalists in a competition through a career development program that asked them to find solutions for an inequity in their community.
Seniors Kialah Hill and Ava Runde and junior Laila Saunders took third place in the Lifting Our Voices for Equity (L.O.V.E.) Project competition, held during the Jobs for America's Graduates (JAG) National Career Development Conference in Florida last week.
"Our program focuses on employability skills, leadership development and connecting kids to real-life career experiences," said Hempstead education specialist and iJAG teacher Dani Tuescher.
A press release from iJAG states that more than 800 students from 40 state JAG programs attended the National Career Development conference. About 100 students participated in the L.O.V.E. Project competition, during which they were tasked with identifying an inequity in their community and developing a strategy to address it.
Kialah, Ava and Laila's project involved developing an equity club at the high school, as well as hosting an oratorical fest of poetry and spoken word focused on inequity on Martin Luther King, Jr. Day. Club leaders are currently being selected, with the goal of formally launching the club in the fall.
As part of the L.O.V.E. Project, the three students gave an oral presentation about their work at a state competition in March, where they placed first, qualifying them to compete at the national competition.
Tuescher said this marked the second time a group of Hempstead iJAG students was eligible for the national JAG conference. Last year, another group of students from the Dubuque high school placed in the top 10 in a business plan competition at the national level.
Laila said she was excited to share their project at the national conference.
"Even if we didn't win, other people would hear our idea and hopefully bring it back to their school," she said. "I was surprised (that we placed third), but at the same time, I was thankful and grateful that they listened to our idea and liked it as much as we did."
She has been involved in iJAG since seventh grade and said she enjoys how the class focuses on real-world skills, from writing resumes and cover letters to financial planning.
Tuescher described Kialah, Ava and Laila's work on the L.O.V.E Project as "a passion project" for them.
"Their project really embodies who they are as humans, looking to advance the well- being of everyone in our school and community," she said. "They're three girls that lift their voices when it matters, so for them to be recognized and have that confirmed was pretty cool."